Foamit foam glass aggregate, which already has an established position in infrastructure construction, is also gaining a foothold in housebuilding as a lightening and thermal insulation material. For example, a contractor on YIT Rakennus Oy's apartment construction site in Mankkaa has chosen Foamit as a new alternative for a conventional solution.
The widespread use of turnkey construction in housebuilding means that, ultimately, the contractor specifies which materials and technical solutions it wants to use on the site, although designers are also consulted for their expertise. Nowadays, self-financed construction requires an increasingly responsible approach to keeping structures and the building as a whole in good condition throughout the design life of the building.
We also discuss environmental perspectives in project groups. We take a positive approach to products that promote the circular economy and sustainable development. Foam glass aggregate is one such product. Our first experience with the product showed it to be technically very functional, so I think it is highly likely that it will become more commonplace on our sites.

Juha Muukkonen, responsible foreman, YIT Rakennus Oy
Muukkonen, who has more than 20 years of experience as a foreman on housebuilding sites, has taken things one step at a time – he started out by gaining some experience using the project. On the construction site of the Asunto Oy Klovinkukkula housing company, Foamit was used as a filler for the concrete roof of the air raid shelter.
"We first intended to use macadam, but we decided on Foamit because it is easy to transport and spread and has good load-bearing properties. Foamit also fits in with our environmental goals, so it was a natural choice," Muukkonen says.
Ready in an hour
On the day when the Foamit was installed on the apartment building site, temperatures were well below zero. Anpe Oy sent a foam glass transportation and pumping vehicle to the site at 8 am. Despite the freezing conditions, it did not take long to prepare for pumping and, once the pump got up to speed, the structural layer was soon complete.
"I was expecting installation to take a few hours. The effective installation time ended up being less than an hour. In that time, the roofs of all four air raid shelters were insulated with a 20-centimetre layer of foam glass aggregate," Juha Muukkonen says.
He says that he was pleasantly surprised to learn that the new product had nothing but positive features for this worksite. In addition to recyclability, Muukkonen values the good load-bearing capacity of foam glass aggregate.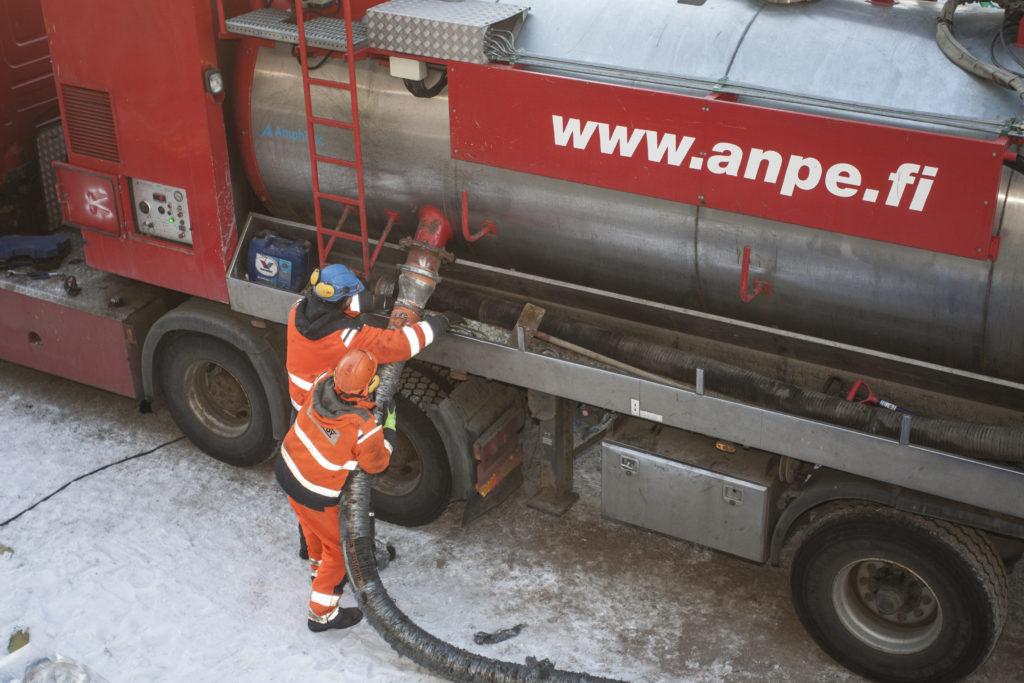 "Whichever application you think of, the load-bearing capacity of a foam glass aggregate layer is a huge benefit. It becomes a good platform to work on, and concrete can be cast without fear of thickness fluctuations due to 'bubbling' in the platform," he says.
The site that Muukkonen is currently working on includes two apartment buildings, the first of which will be completed in October 2018 and the second in February 2019.
"It seems fairly certain that I will use even more Foamit on the second site. The product has advantages that make it highly suitable for use as thermal insulation as well as an infill material to replace stone aggregate," Muukkonen says.